Worried about which smartphone is right for me? So here we bring you the updated latest list of Best Smartphone on the Market that will please your desires and fulfill your thirst of having Android or Windows or IOS powered smartphones. Earlier we gave you a list of cheap Gorilla Glass enabled smartphone which actually gave a good protection to the money invested on best smartphone on the market. Many of us might be searching for Smartphone that will fit your budget as well as are the best smartphone when compared to Processing, Performance, Camera and many other important factors.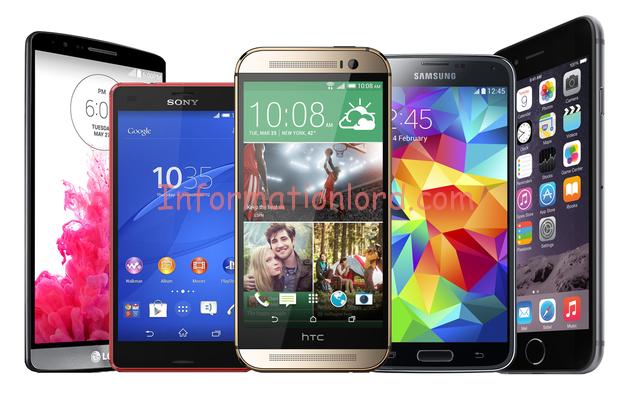 This year, we saw many Smartphone companies that came up with unique concepts of Mobile computing that gave new dimension to the Virtualization era in the Smartphone Market. But still many of us remain confused and stare at each other regarding the main question – Which Smartphone is Right for me or Which is the best smartphone in the market ? Well, we have found the solution that might help you in choosing your best smartphone and reduce the confusion to maximum extent without much problem. Informationlord will soon release many other posts that will target various sections of top smartphones depending on the Price tags and the Operating system offered by these smartphone. Do not forget to subscribe to the site in order to stay updated with  the newest smartphone list which we provide here time to time!
Today's post of Best Smartphone on the Market, will target the top smartphones in their respective Operating System range. Let begin the count down with their respective features :
Best in Class iOS powered Smartphone :
Apple inc is famous for the premium smartphone range which is launched twice a year or sometimes even once a year. Apple's Smartphone iPhone is the killer series of the premium iOS powered smartphone. We will discuss the best iOS powered smartphone in detail later on. Here we bring you the specs of iPhone 6 Plus the latest and the newest smartphone by Apple in its premium Smartphone series.
iPhone 6 Plus :
This is the Apple's newest smartphone which comes loaded with latest iOS operating system that gives you full essence of Premium Smartphone. It is not wrong to say that it is premium smartphone which made us give it a special position in our list of Best Smartphone in the market. Apple iOS powered iPhone 6 Plus comes with latest iOS 8 and can also be upgraded to Latest iOS update to iOS 8.3 which powers almost 70% of Apple Iphone devices.
iPhone 6 Plus has a very smooth user interface which is capable of running 2G/3G/4G LTE networks, thereby supporting all mobile phone carrier. For better security handling iPhone 6 Plus has Finger print sensor which acts as Touch ID, which satisfies the smartphone definition in terms of security. It also have Apple Pay system too, which supports Visa, MasterCard, AMEX transactions. It supports nano SIM card, the same which is supported by HTC devices. iPhone 6 Plus has a stunning capacitive touchscreen with LED backlit IPS LCD Display that is capable of showing 16 millions colors with efficiency. iPhone 6 Plus has 5.5 Inch multi touch screen with Ion-strengthened oleophobic coated glass which is too tough to be broken easily.  It has Apple A8 Chipset with Dual-Core processor clocked at 1.4GHz Cyclone CPU which is ARM v8 powered which enables you to carry on your tasks very efficiently without lags or slow performance. For gaming and imaging, iPhone 6 Plus comes loaded with PowerVR GX6450 Quad Core graphics which is heat free and is easy in taking heavy graphics down to virtual world. Although iPhone 6 Plus do not come with expandable memory but it comes with different variants that differs in memory space : 16/64/128 GB but all running on 1 GB of RAM. Coming to Camera quality iPhone 6 Plus has very awesome camera but not better than Samsung Galaxy S6 Edge which has the best smartphone camera yet. It comes with Non-removable Li-Po 2915 mAh battery which can easily make iPhone run for a day on heavy usage.
Depending on various variants of Storage available, iPhone 6 plus is priced at different ranges. One can get over to the link below and check out the variant you like and buy it online using Amazon.
Apple iPhone 6 Plus 64GB 4G LTE Factory Unlocked GSM Smartphone – Gold
Best in Class Android Powered Top Smartphones:
Android is the only segment of Operating System that draws maximum number of Smartphone users and hence it does answer all your questions related to Which is the best smartphone in the market , Many smartphones join Android Operating System category day by day, which are also very cheap android smartphone as well as worth buying too. Well we will focus about different Android Smartphone category in other posts. Right now let us open the curtains and showcase the Best Android Smartphone in the Market, which is basically the premium line and worth buying too.
#1 Samsung Galaxy S6 Edge :
This very smartphone by Samsung has burnt all the segments into ashes with the stunning engineering done over its edges with smooth screen and best smartphone camera available in this premium smartphone range. Samsung S6 Edge comes loaded with Super AMOLED capacitive multi touch screen which is capable of showing 16 millions colors. It has Corning Gorilla Glass 4 with Curved Edge screen which makes Samsung Galaxy S6 Edge stand apart in the premium Android Smartphones race. It also boasts a finger print sensor which is certified by Paypal and comes with Samsung Pay. Samsung Galaxy S6 Edge comes with full support of latest mobile phone carrier like GSM/HSPA/LTE.
Samsung Galaxy S6 Edge runs on latest Android OS Lollipop 5.1 which has Exynos 7420 Chipset that has Octa Core processor with Quad Core clocked at 1.5GHz Cortex A-53 and other four cores clocked at 2.1 GHz Cortex-A57 that enables multi threaded processing without any heat problems on Samsung Edge. It has Mali-T760MP8 Graphic Processor that enables Samsung Galaxy S6 Users to play hard core games and run high graphic app without any slow down or lags. Although Samsung's newest smartphone Samsung Galaxy S6 Edge do not come with Memory card slot but comes with different variants that have 32/64/128 GB of storage space and 3GB of RAM. It has high quality 16 Mega Pixel camera that can record 2988 X 5312 Resolution videos and images very easily in super fine quality. Samsung Galaxy S6 does support wireless charging too, by placing the smartphone on the charging deck.
Depending on the price range, Samsung Galaxy S6 Edge does comes with various price tages which are differing in terms of memory space allocated! One can buy it from the below link too
Samsung Galaxy S6 SM-G920F 32GB (FACTORY UNLOCKED) 5.1″ QHD Gold – International Version
#2 HTC One M9
Another blow by giant manufacturer HTC after HTC One M8 rocked smartphone world, HTC ONE M9 is the latest smartphone by HTC in its premium series that comes with magnificent features that makes it rank in best Smartphone in the market list. HTC One M9 comes with Super LCD 3 Capacitive multi touch screen that supports 16 million colors and has corning Gorilla glass 4 thus making it fit for rough and tough usage. HTC One M9 is powered by Android Lollipop 5.1 which comes with HTC modded Sense 7.0 User interface. It has LTE connectivity on the go and has Qualcomm MSM8994 Snapdragon 810 chipset packed with 3GB of RAM and has expandable memory upto 128GB and 32GB of inbuilt storage, which is a plus point of HTC One M9 over Samsung S6 Edge and iPhone 6 Plus. HTC One M9 also has Adreno 430 GPU which makes it run high graphic games easily.
It has fast battery charging option that can Quick charge HTC One M9 battery up to 60% in just 30 minutes. HTC One M9 comes with vibrant colors like Gunmetal Gray, Amber Gold, Silver/Rose Gold, Gold/Pink which are awesome in looks. It has non-removable Li-Po 2840 mAh battery. HTC M9 is priced at a single price as there are no variants for the same. One can buy it online via Amazon from below link :
HTC One M9 – US Warranty – Factory Unlocked 32GB (Gunmetal Grey)
#3 Sony Xperia Z3
Sony Xperia Devices ranges very smart looking above the line Android Smartphones. It has recently launched Xperia Z4 which has very decent looks and capable enough to draw attention of Android smartphone users along with the Xperia User Interface which is now updated to Android Lollipop. We would not suggest Xperia Smartphone devices to Developers as it has highly complicated development system when compared to Samsung and HTC device. But still we included Sony Xperia Z3 in the list of best smartphone on the market because of the stunning features offered by Xperia Z3 smartphone.
Like other top rated premium Smartphones, Xperia Z3 is capable of supporting all mobile phone carrier (GSM/HSPA/LTE). Xperia Z3 comes packed with 5.2 Inch IPS LCD with Shatter proof glass loaded with Full HD display with 424 Pixels per Inch Pixel density. The best feature that can one feel in all Sony Xperia top smartphones is, they all come with Sony Bravia's Triluminos Display and X-reality Engine which enhances your viewing experience on Sony Xperia smartphones. Sony Xperia Z3 comes in two variants – One is with 16GB internal and other is with 32GB internal but both support 128GB expandable memory via micro SD slot. To add up to the performance, Xperia Z3 comes packed with 3GB of RAM that adds huge base to Quad Core 2.5 GHz Krait 400 CPU with Adreno 330 Graphics. Xperia Z3 runs Android Kitkat which can be upgraded to Lollipop which was released for Xperia Z3 before few days.
Moreover to add up layer to the cake, Xperia Z3 comes with 20.7 Mega Pixel Autofocus, LED Flash camera. It has all connectivity options like Wi-Fi, NFC, Bluetooth that helps you to connect on the go. Overall Xperia Z3 has a good battery backup with 3100 mAh battery that can support you a day with heavy usage. One can head over to buy Xperia Z3 from the link below and grab the good deal for the variants you like : Sony Xperia Z3 D6653 16GB (FACTORY UNLOCKED) GSM international model – Silver Green
#4 Xiaomi MI 4i
Xiaomi also known as Chinese Apple is breaking all records of sales of top smartphones with its new Android Powered Cheap smartphones that provide premium features which one expects in the phones like Apple, Samsung and Sony. This is why it has occupied its position in our list of Best Android Smartphone in Market.
With the launch of the latest Xiaomi MI4i MIUI powered smartphone, which boasts a unique design and fast processing speed, MI is all set to break records with its sales. As Xiaomi already has shaked hands with Microsoft and planned to Dual Boot Android and Windows On Same Smartphone which is quiet awaited in the smartphone development world. It might resemble like iPhone 5 but trust us, it is not that Apple shit as it comes with 5 inch IPS LCD capacitive touch screen and MIUI modded Android lollipop. To add up MI 4i is powered by 64-Bit architecture that utilizes the best of the hardware while running Android Lollipop. Xiaomi MI 4i is powered by Octa Core Snapdragon processor which is same as HTC Desire 820. It comes with 13MP rear camera and 5 MP front facing camera. It is the newest smartphone in the legacy of Xiaomi Android Smartphone manufacturing unit.
It basically has candy bar form factor that separates it from other smartphone. And whats more interesting is – Xiaomi Mi 4i has 5606 of 3D Mark Ice Storm Extreme benchmarks and 40253 total score of Antutu benchmarks which is quiet stunning for this low priced Top Android Smartphone. Moreover MI 4i is Dual SIM support phone that has Dual 4G standby mode and easy switching in between both the cards. Mi 4i comes loaded with 3120 mAh battery that can give you a better battery backup that can lost for a day very nicely! It has an option of super charge too that can charge your phone to 40% in just an hour, although it is not a good deal when compared to other super fast charging capabilities. One of the best plus point of Xiaomi MI 4i over other Samsung, Sony, HTC is Xiaomi is much user friendly for development and normal use too.
Other top Android Smartphone Manufacturers include Micromax, Lenovo, Panasonic and many more. Actually Android Smartphone list is very very large so we gonna soon post the Top Smartphones running Android latest version with different price segments in coming posts.
Best in Class BlackBerry OS Powered Smartphone :
It is not wrong to say, once Blackberry ruled the premium class of Smartphone, we would still consider it as best in class smartphone as it taught users the real meaning of Smartphone which is quiet easy to understand. Here we have the quick view of the top of the line BlackBerry Z30 Smartphone which is also the latest Blackberry smartphone in the market.
BlackBerry Z30 :
BlackBerry Z30 the Most Reliable Smartphone in BlackBerry legacy runs on latest BlackBerry OS 10.2 which can be upgraded to BB OS v10.3. BB z30 has internal storage of 16 gigs and comes packed with 2 GB of RAM that can handle your operations at a very faster rate as compared to earlier models of Blackberry Smartphones. It does support microSD card slot which can be expanded to 64GB, although it is less but is quiet adjustable. BlackBerry Z30 has Super AMOLED capacitive touch screen with 16 million color and 5 Inch screen that supports 720 X 1280 resolution.
BlackBerry Z30 is the successor to the Z series of Blackberry smartphones. It has 8 Mega Pixel rear camera that is capable of recording full HD Videos without problem. As far as battery backup of BlackBerry Z30 is concerned, It comes with 2880 mAh battery that gives a day backup after a rough usage by the business man 😛
Now the decision lies over to you, whether you would like to go for the above mentioned top of the line Best Smartphone on the Market which are currently trending as per the latest upgrades. If you have any doubt please feel free to comment as our experts are here to help you out any point of time. Make sure that you subscribe to the website as we will soon post various segments of android smartphone that will fit budget of the users as well as satisfy their needs!