CPU speed is the most important factor which contribute to maximum consumption of battery on any android device. What if we tweak the CPU usage as per user's requirement and therefore give you more battery life, so here's the best tutorial for all android device users,- How to set CPU speed on android device to save battery.
So here we go; all one need is to
1. Root your Android device (important)
For detailed procedure click here.
2.Download SetCpu app from here:
3. Follow the tutorial carefully :
First install the downloaded app SetCpu. Now open it, here you will see the current cpu bandwidth, that is the maximum speed at which your processor is clocked.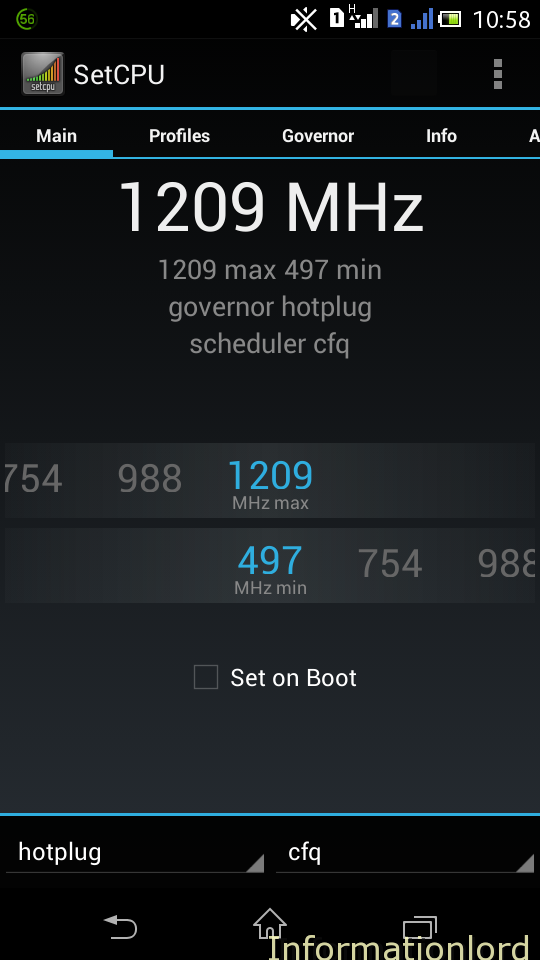 Now set the bandwiddht according yo your demand, like if you are using the phone only to text and call then set Cpu speed to 512MHz, that's more than enough.
This app also comes with many other inbuilt modes like On demand etc as you can see in the picture below.
All you need to do is select anyone of your choice and grant super user permission(if asked) and then Restart your android device. And in this manner you have successfully configured the cycles or CPU speed and you can see the results in battery consumption too.
Dont set CPU speed too much low, your device may become too slow and will take lots of time to restart or may never restart 😉 until you flash it.
If you have any queries please feel free to comment ! Dont forget to subscribe to our newsletter to remain updated.
Regards,
InformationLord.com