WhatsApp Includes Read Feature
WhatsApp Includes Read Feature -So no more reasons saying that you didn't read his/her message. This is included after the conversion of double white ticks into Blue Colour Double ticks that will indicate that your message is now Read by the Receiver!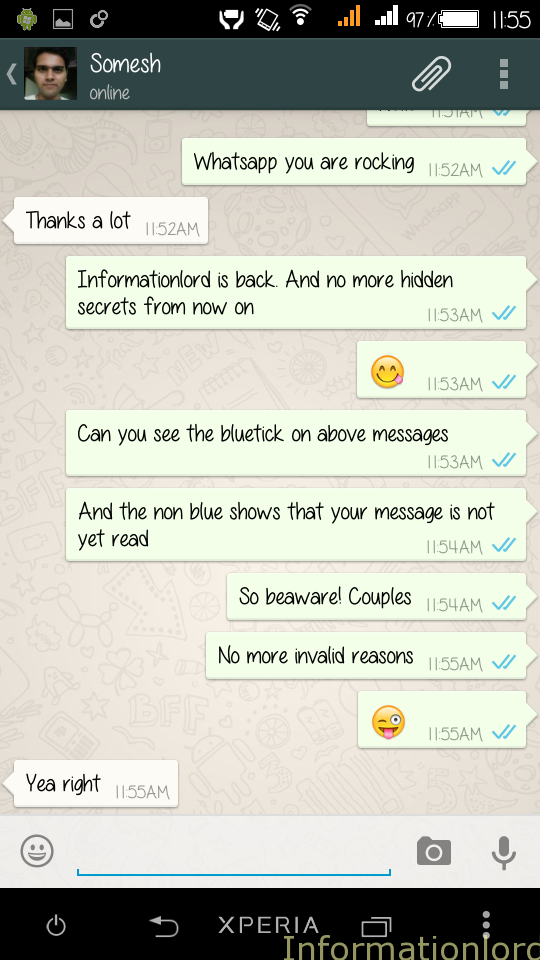 Before few days, it was a rumour that WhatsApp will include Read Feature and its surely done. Another Rumour is of Introduction of VoIP service after which one can make phone calls directly via WhatsApp using Voice Over IP using your Internet or Wifi connection free from Call charges. Which is most awaited update now!
#UPDATE: Now one can see who have Read Your Messages in the Group too.
Simply Long Press on the message you have sent in group and then press on "i" that appears at the top and there you can see who have read your messages in group on WhatsApp.
This Read Feature in Whatsapp is now in initial stages and is rolling slowly! So guys please be patient as it might take little time to reach your whatsapp app and make you feel comfortable with the Ticks! Here is the general meaning of the ticks :
WhatsApp Includes Read Feature will surely break many relations and will also bind many! 😉 Do not forget to subscribe to the website in order to get the latest updates on the hot topic of WhatsApp Update.