Jio recently announced the successor to its Jio Phone legacy- Jio Phone 2 which goes on sale in India on 15th August, i.e the Independence day. Jiophone 2 specs, price are already announced by Reliance Jio Director Mukesh Ambani. We here at information lord will brush up your minds regarding the same in order to give you a fair choice regarding what to buy. Is Jiophone 2 worth it when compared to Jiophone. Let us find out.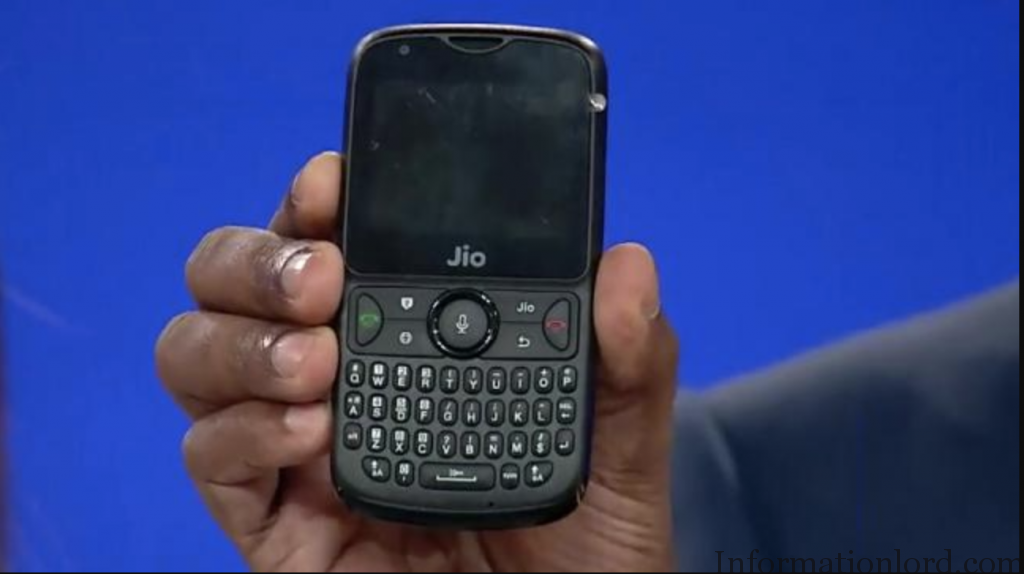 Horizontal bar has been the choice of many buyers since Blackberry introduced them to the market. JioPhone 2 thus fulfils the demands of many users who demand business phones like blackberry at cheap price.
Check Out: Jio TV for PC
Technical Specifications of Jio Phone 2
JioPhone 2 features a 2.4″ QVGA Horizontal display, which pretty much adds a good display at this price segment. To add extra masala to it we get QWERTY keyboard which is physical and thus gives us feel of Business smartphone like BlackBerry. JioPhone 2 packs with 512MB RAM and 4GB of onboard storage which is expandable to 128GB via microSD card which is pretty high. Coming to the best part- Jio Phone 2 is powered by 2000mAh battery and consists of dual-SIM, and supports VoLTE & VoWiFi for seamless network experience on the go.
Did you try: Set Callertune on Jio for free
JioPhone 2 currently will be launched only in black colour, we can expect many more other colour variants of Jio Phone 2 to be launched lateron once Jio Phone 2 hits the market.
JioPhone 2 will be available only in one variant which comes with 512 MB of RAM.
Jio Phone 2 is just another feature phone which comes with WhatsApp and Facebook installed on it. So one can say it is as Feature Phone instead of Smartphone.
Coming to connectivity JioPhone 2 has got Wifi connectivity along with NFC, Bluetooth and GPS.
For Multimedia, Jio Phone 2 has 3.5 mm jack, FM radio and supports major Audio and Video playback formats.
JioPhone 2 comes with 2 MegaPixel rear camera and 0.3 Mega Pixel front facing camera and hence making it more useful for the general public.
How to Book Jio Phone 2:
JioPhone 2 will be widely available for all its users from 15th August 2018 in all major Reliance Jio stores. One can easily buy Jio Phone 2 from official website of Jio: www.jio.com as well for Cash on Delivery option.
Jio Phone 2 Launch Dates:
JioPhone 2 will be made available for the general public from 15 August all across India on the Independence day.
Price of Jio Phone 2:
Jio Phone 2 is priced at 2999Rs only which is bundled with Reliance Jio sim card that offers you with Jio Prime membership. Here is the quick sum up of the Jio Phone 2:
FAQs regarding Jio Phone 2
We are damn sure that you might have a lot of questions popping in your mind regarding Jio Phone 2. Here are just a few of them. Do feel free to ask your queries via comments and we will be very happy to assist you all with it.
#1. Do JioPhone 2 have Hotspot?
Jio Phone 2 will be supporting Wifi Hotspot unlike earlier JioPhone and we will be writing seperate guide on How to enable hotspot on Jio Phone 2.
#2 Can we use other sim card in JioPhone 2?
Yes, as JioPhone 2 is dual sim phone, therefore, you can use any network sim card on Jio Phone 2 without any problem.
#3 How to Install WhatsApp and Facebook on JioPhone 2
Well, JioPhone 2 will have WhatsApp and Facebook installed on it from the factory itself. Alongside them, it will also have dedicated Youtube app as well to stream videos directly via Youtube App on JioPhone 2. Jio Phone will also get update to install WhatsApp Messenger, Facebook and Youtube app on it from 15th August. One will be able to install WhatsApp on JioPhone directly without any problem rather than falling prey to WhatsApp Web via browser trolls.
You will not regret buying Jio Phone 2 until you just need to make calls and do little bit of browsing. We would not recommend JioPhone 2 for heavy phone users as that will not satisfy your need. Do not forget to subscribe to the website via push notifications for further updates.