We really have progressed to a great extent on the locked bootloader Xperia C after launching just the Xperia Z1 called ROM which was really a back up of Xperia stock ROM. But today we prodly launch he pure Dark Xperia Z2 ROM for Xperia C. The best thing is- Dark Xperia Z2 ROM for Xperia C is flashable zip unlike our earlier Xperia Z1 based ROM which was actually a backup.
UPDATE : Pure Xperia Z3 ROM for Xperia C is now out finally. One can see the extra features like Theme selector and much more form the Information Lord along with tutorial : THIS IS FOR LATEST BUILD WITHOUT BOOTLOOPS
http://www.informationlord.com/pure-xperia-z3-rom-for-xperia-c/
I cannot stop myself to jump directly to credits part first;
NOTE: This is based on old Build. Do not Try this on Latest Xperia C Build 16.0.B.2.16
Dark Xperia Z2 ROM for Xperia C is ported by Iwan Uzumakii and tested by me; The original Xperia Z2 ROM is developed by XDA devs. Apart from them, you readers are also equally creditable whose inspiration made us work day and night on this ROM.
Features of Dark Xperia Z2 ROM for Xperia C:
Consists of Xperia Z2 HOME & Simple Home
Xperia Z2 Themes are fully loaded
Xperia Z2 SystemUI
Xperia Z2 Framework
Xperia Z2 Media Apps (Album, Movies, Walkman, Movie Creator, Video&Music Unlimited)
Xperia Z2 Apps (Clock, Calculator, Notes, Sketch, Socialife, Select, Email, Calendar,Downloads, Sound Recorder)
Xperia Z2 Widgets (Camera, Clock, Walkman, Photo, Weather, World Clock, Top Contacts, recent, tools)
Latest Xperia Keyboard
Xperia Z2 Fonts
Xperia Z2 Smart Social Camera With Backgound Defocus and AR Effect
Xperia Z2 Style Settings
Xperia C Style Camera
Xperia Z2 Wallpapers
Xperia Z2 Sounds
Xperia Z2 Bootanimation
True Viper4Android Integration
Xperia Z2 build.prop
3G SIM Switching
S-Force Surround Sound 3D
RAM Saving
Battery Savings
Advanced Reboot Menu
Xposed PreInsalled
Smart Gestures
No Bloatwares
HoNami Z2 Camera with all features working
Procedure to install Dark Xperia Z2 ROM for Xperia C:
Please follow all steps with all your senses open in order to avoid software brick of your Xperia C
First  of all your phone must have Pure CWM installed. If it is not installed then first read : Pure CWM for Xperia C and proceed after installing CWM on Xperia C.
Step 1: Download Pure Dark Xperia Z2 ROM for Xperia C from here(Google Drive) or here (4shared).We will surely create its mirrors for your convenience.
Step 2: Now place the downloaded zip to SD card of your phone and remember the location. We would suggest you to directly paste to SD card rather than pasting it inside any folder.
Step 3: Shut down your Phone and boot into recovery mode by pressing Volume Down and POwer button simultaneously!
We would recommend you to first create backup of your current ROM before proceeding further; this will be very much helpful in case you didn't like the ROM and wish to revert back to stock or earlier backup. To create Backup just go to Back up and Restore from CWM menu and create backup; Wait ntil it finishes.
Step 4: First select Wipe data/Factory reset from the options on the main menu in the CWM. And then after factory reset Wipe Cache partitions and also Go to Advanced and Wipe Dalvik Cache too.
Step 5: Now go to Install Zip from SD card option in CWM menu.
Step 6: Browse the pakage from SD Card, i.e the Xperia Z2 ROM.zip from SD card, which you downloaded earlier.
Step 7: Select the Zip and start flashing; Once the process starts, it might take little time to finish. By that time Please share this article and subscribe to our site. Don't forget to like our facebook fan page as a vote of thanks from the sidebar :).
Step 8: After flashing of Zip is completed. Now just reboot your phone. And enjoy the Xperia Z2 ROM on your Xperia C.
Screenshots:
If you have soft bricked your Xperia C then read: Ultimate Guide to Fix Bricked Xperia C.
UPDATE: If you want to change the Home then download Sony Made Home from here. And just boot into recovery and flash that zip you downloaded! Then you will have home like this :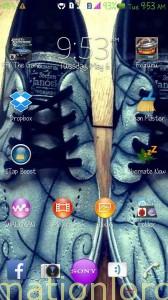 Struck anywhere or want to donate us, Please comment for the same, we will surely be at your Service.
From Informationlord, With Love <3 .